Pocket Option: What is Fixed Time Trading?
Fixed Time is a mode of trading on the Pocket Option platform. Monitor the market and open trades using relevant trading assets such as stocks, metals, indices, ETFs, and others.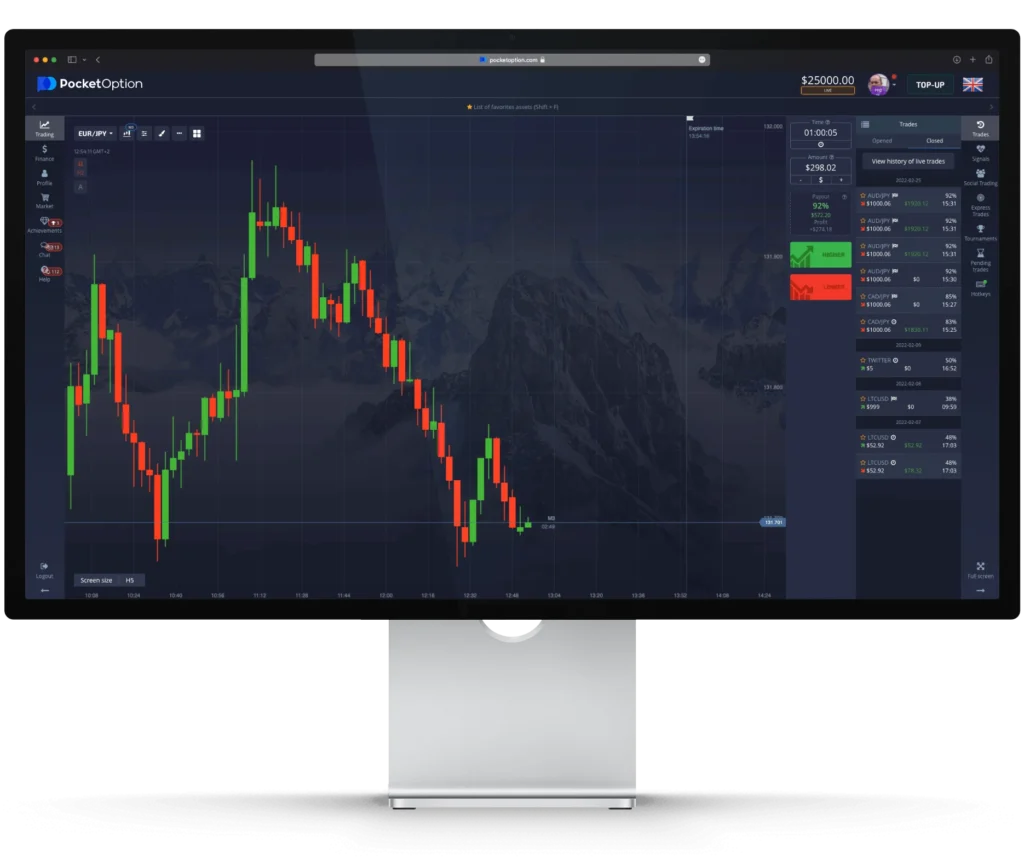 Select Assets

Market Movement Analysis

Select Transaction Nominal

Set the Transaction Time Range

Open Transactions
Easier than the trading floor.
Harder than pure luck.
Fixed Time trading doesn't require the trader to analyze the financial market in depth. That said, a trader can't rely on pure luck either.
For trading more effectively and understanding the tone of the market, it is advisable for a novice trader to explore the possibilities of the trading platform and acquaint themselves with several popular trading strategies.
Pocket Option Educational Possibilities of the Platform
Ready-to-go Trading Strategies
Webinars and Video Tutorials
Complete
the interactive tutorial
Choose one
of the strategies
Practice
using a demo account
Make a deposit
and become an expert
Trade Safely with Pocket Option

Guaranteed
Gembell Limited is regulated by IFMRRC
Make Deposits and
Withdraw Profit


Conveniently
No commissions. Use trusted means of payment.
Set Up a
Free Account


Right Now!

Trade Risk-free Using a Demo Account
18+
Transaksi yang ditawarkan oleh Website ini hanya dapat dilakukan oleh orang dewasa yang sepenuhnya berkompeten. Transaksi dengan instrumen finansial yang ditawarkan di Website ini melibatkan risiko yang tinggi dan trading dapat sangat berisiko. Jika Anda melakukan Transaksi dengan instrumen finansial yang ditawarkan di Website ini, Anda mungkin mengalami kerugian besar atau bahkan kehilangan seluruh dana dari akun Anda. Sebelum Anda memutuskan untuk memulai Transaksi dengan instrumen finansial yang ditawarkan di Website ini, Anda harus meninjau Perjanjian Layanan dan Informasi Pengungkapan Risiko. Layanan di Website ini disediakan dan diatur oleh Saledo Global LLC, terdaftar di: First Floor, First St. Vincent Bank Ltd Building, P.O. Box 1574, James Street, Kingstown, St. Vincent & the Grenadines, yang memiliki izin penuh untuk melakukan aktivitasnya sesuai dengan undang-undang negara tersebut. Perusahaan rekanan (mitra): VISEPOINT LIMITED; No. pendaftaran C 94716, terdaftar di: 54, Immakulata, Triq il-Mina ta' Hompesch, ZABBAR ZBR 9016, MALTA; dan WALLFORT LIMITED, nomor pendaftaran HE 364395, terdaftar di: Agias Zonis & Thessalonikis, NICOLAU PENTADROMOS CENTER, lantai 5, flat/kantor 305B, 3026 Limassol, Cyprus, menyediakan konten dan melakukan manajemen operasional bisnis.
Diatur dan disertifikasi oleh Financial Commision
Deposit disimpan di salah satu bank Eropa
Sambungan diproteksi oleh SSL Certified 256 bit Secure Processing